New WSDOT Ferry Salish in Sea Trials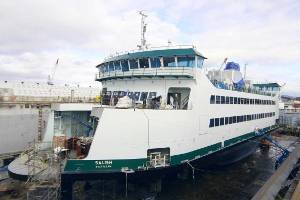 The new Washington State ferry Salish is completing builder's sea trials in Puget Sound. The vessel is expected to begin serving the Port Townsend-Coupeville route this summer, restoring full two-boat service to the route for the first time since 2007.
Contractor Todd Pacific Shipyards is conducting sea trials to demonstrate the vessel to
U.S. Coast Guard and WSDOT Ferries Division
(WSF) inspectors before WSF accepts delivery of the vessel. Later this spring, WSF crews will begin operational training and familiarization with the Salish on the Port Townsend/Coupeville route to get the vessel ready to sail this summer. "We're pleased to be getting this vessel on the water for its initial sea trials on schedule and on budget," said Steve Welch, President.
"These sea trials bring the state one step closer to getting a second new ferry into service," said David Moseley, assistant secretary for WSF. "Much like our friends in Port Townsend and Whidbey Island, we look forward to the Salish restoring full service on the route."
The Salish's sister ship, the Chetzemoka, began service on the Port Townsend-Coupeville route in November 2010.