Hoegh Osaka Update: Salvage Work Resumes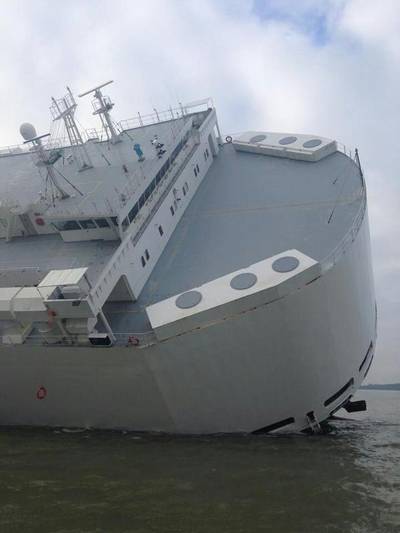 Authorities hope to continue the salvage operations of car carrier vessel Hoegh Osaka which ran aground shortly after its departure from the Port of Southampton January 3.
According to the U.K. Maritime and Coastguard Agency (MCA), Hoegh Osaka is currently stable at the anchorage after unexpectedly self-floating yesterday. Three tugs kept the vessel in place overnight despite some high winds in the early hours.
Salvors estimate that up to 3,000 tons of water remains on the vessel and hope to begin pumping the water off today when the weather improves. It is expected that the removal of this water will reduce the ship's list.
An "oily film" was discovered on top of this water from the hydraulics of the vehicles on board, MCA reported. Salvors intend top use a technique that draws the water from the bottom of the vessel to avoid this oily film.
MCA said five to seven days worth of salvage work still needs to be completed before the vessel can be moved back to the Port of Southampton, including a hull inspection by divers, the removal of the water that entered the ship through the now-repaired crack, and ballasting operations to reduce the list.
Salvage teams are on board the vessel today and The Queen's Harbor Master has now introduced an exclusion zone of 300m to remove the risk to leisure users of the Solent.
Forecasts predict worsening weather at 3 a.m. on Friday, which abates during the morning before picking up again at 3 p.m. and reaching very high winds Saturday morning.