Scaldis' Crane Vessel Rambiz Meets MERUS Tech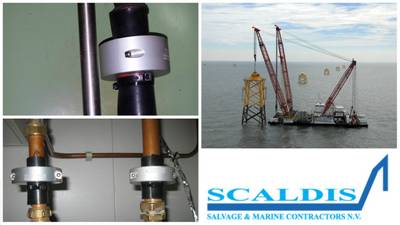 The heavy lift vessel Rambiz, property of Scaldis Salvage, stands out due to her large deckspace, shallow draft, renewed large accommodation facilities and two cranes.
Together with other qualities, this arrangement gives the vessel the capability to operate in areas where no other comparable vessel can go. Rambiz' ability to work in both very shallow and deep waters provides valuable flexibility.
The Belgium Scaldis Salvage and Marine Contractors - an offshore marine contractor specializing in
offshore transportation
and installation works - has equipped the Rambiz with several Pronomar – MERUS rings for the freshwater system.
It is important that the freshwater system on-board is working effectively and efficiently, without too much hassle, Pronomar said. The MERUS technology makes sure that the freshwater system stays mostly free of harmful buildup, by disturbing the build-up of lime scale, rust, bacteria etc. inside.
On board of the Rambiz, the complete domestic water system was equipped with the MERUS technology.