CS Unitec's New Hand-held Scarifier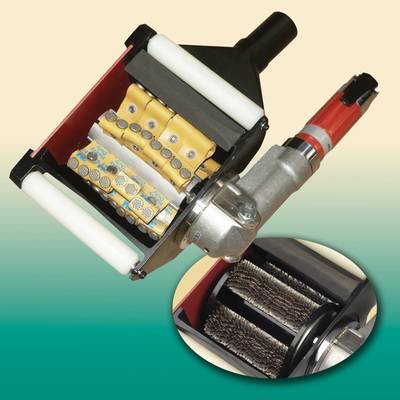 CS Unitec has introduced an air peening tool to its Trelawny line of surface preparation equipment. This hand-held scarifier cleans and prepares steel and concrete surfaces, making it an ideal alternative to small-area shot blasting.

Appropriate applications include readying and maintenance of ship decks, oil and gas pipelines, bridges, factory floors & more. Hazardous materials and contaminated particles are extracted more safely when this tool is attached to a dust collection system such CS Unitec's CS 1435 H HEPA vacuum.

CS Unitec offers two models with a 4" cutting width. Model 194.C405 uses Star Cutters for heavy scaling and aggressive removal of thick coatings, plaster, adhesives & sealants. Light paint, protective coatings & rust are more easily removed with 3M™ Heavy-duty RotoPeen™ 'C' Flaps provided with Model 194.0405. Both pneumatic scarifiers have a load speed of 2700 RPM & consume 30 CFM of air at 90 PSI. The vibration levels range from 3.1 to 4.6 m/s2.