First Visit to the Port of Kiel by Mein Schiff 3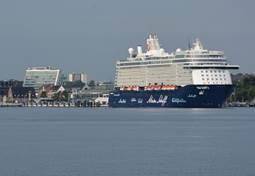 New TUI Cruises flagship welcomed at the Ostseekai.

Mein Schiff 3 - the new flagship of TUI Cruises, and currently also the biggest cruise ship sailing with any German shipping company, has arrived in the Port of Kiel on her maiden visit. The new 99,500 GT, 294 m long ship was welcomed with a water fountain display from a port tug when she entered the Kiel Fiord. At a traditional on-board reception later Dr Dirk Claus, Managing Director of the Port of Kiel (SEEHAFEN KIEL) and Robert Vollborn, Kiel's First Deputy City President, presented the Port of Kiel's commemorative 'First Call' plaque to Richard J. Vogel the CEO of TUI Cruises and to Captain Kjell Holm.

Dirk Claus said "we are very proud to be able to welcome this splendid new ship to Kiel. We are also very pleased that she is introducing herself here even before her official naming ceremony", he added. Mein Schiff 3 was first making a short trip in the direction of the Danish Island of Bornholm in the evening before returning to Kiel on Friday and berthing again at the Ostseekai. On Saturday June 7 TUI Cruises was holding a "Day of Discovery" on board the ship after which "Mein Schiff 3" was scheduled to head for Hamburg where she was being officially named on June 12.

Inside four days, all three of TUI Cruises ocean-going cruise ships have been in Kiel for people to see. Mein Schiff " started the ball rolling on June 1 ahead of Mein Schiff 1 which berthed at the Ostseekai the following day. The arrival of Mein Schiff 3 on June 4 completed the trio of visits. "The fact that all three ships of TUI Cruises are calling at Kiel this season underscores the close partnership enjoyed by the port and the shipping company," said Dirk Claus.

Overall, the Schleswig-Holstein state capital will be visited 18 times this year by the cruise ships of TUI Cruises. The most frequent visitor will be Mein Schiff 2 which is starting 12 cruises from the Ostseekai during this year's summer season. During the Kieler Woche regatta at the end of June, both Mein Schiff 2 (June 22) and Mein Schiff 1 (June 27) will be on the Kiel Fiord to draw admiring glances. There is another highlight to look forward to as well: during the 2015 summer cruise shipping season, Kiel will also become the base port for Mein Schiff 4, which is currently being built at the STX Shipyard in Turku Finland.