Scituate Boat Works Opens Marine Services Building and Ship's Store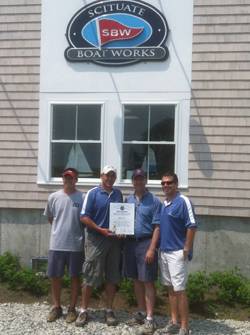 Scituate Boat Works (SBW) recently completed the construction of a marine services building and Ship's Store at the Scituate (Massachusetts) Town Marina.
The new facility is the latest step in the process of revitalizing the town-owned marina to improve services to recreational boaters and the area's commercial fishing fleet. The inner harbor where SBW is located has been dredged and is now a marked channel to the marina.
"Our new facility will not only allow us to significantly improve the services and supplies we provide to the Scituate marine community, it will also keep our eight very dedicated and hard-working employees working year round," said Brian Curreri, President of Scituate Boat Works. Prior to the opening of the new marine services building, the boat yard operated out of a temporary construction trailer for three years with no enclosed space for boat maintenance and repair, making it difficult to work during the long New England winters.