Seacor Continues to Build Monohulls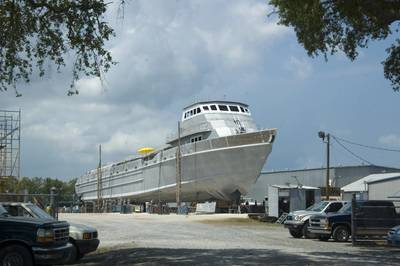 In spite of the success of their catamaran crewboats, Seacor continues to build their conventional crewboats. 464, to be named Alice G. McCall, is currently building at Gulf Craft in Patterson . The Alice G. McCall is due for delivery in August of this year. The 190 x 34-ft. boat will be followed by two more conventional vessels in 2009 and 2010.
The DP2 classed Alice G. McCall will be powered by five 1800 hp Cummins KTA50-M2 main engines for a total of 9000 hp. Gears will be Twin Disc MG-6848 with 2.93:1 reduction turning four-blade 54 x 53-in. Nibral propellers on five-inch shafts. The boat will have three independent rudders. The boat's Thrustmaster azimuthing bow thruster will be powered by a Cummins QSM11 engine. An additional Cummins QSM11 will drive the two tunnel bow thrusters. The vessel's two 135 kW gensets will each be powered by Cummins 6 CTA engines as will the bulk compressor drive. There will be a total of ten Cummins engines on the boat.
Maximum speed will be 26 knots at 1900 RPM with fuel consumption at 420 gallons per hour. Cruising speed will be 23 knots at 1800 RPM and 310 gallons per hour fuel consumption. At the economy speed of 20 knots and 1,600 RPM fuel consumption drops to 260 gallons per hour.