Sailors' Society Woolly Hat Week to Aid Seafarers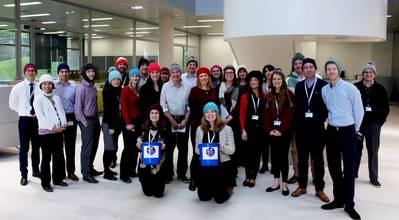 Press release - Sailors' Society is encouraging supporters to be a #HatHero this Woolly Hat Week to raise awareness of the challenges seafarers face daily and to help seafarers in need.

Sponsored by Lloyd's Register, this Woolly Hat Week will be held February 14-21. You can lend your support by wearing a woolly hat to work, donating to Sailors' Society and tweeting a selfie to #HatHero @SailorsSociety.

"Seafarers can be away from home for up to a year at a time braving freezing temperatures and dangerous seas to deliver 90 per cent of our goods. So, in our eyes, seafarers are real heroes. By joining in Woolly Hat Week, you can be a hat hero and show your support for seafarers around the world," said Claire Heath, Sailors' Society corporate and trust manager.

Every year, Sailors' Society gives out thousands of woolly hats knitted by volunteers to visiting seafarers.
Claire continued, "As well as keeping their heads warm at sea, the gift of a hat means a great deal to someone away from their loved ones for months on end. We're hoping that Woolly Hat Week will inspire people to have fun, as well as spread the word and involvement in our cause."

Woolly Hat Week sponsors Lloyd's Register will be holding their own collection and urges other shipping companies to do the same.
Nick Brown
, Lloyd's Register's Marine Chief Operating Officer (COO), who is running the 2016 London Marathon in support of Sailors' Society, said, "We're delighted to be sponsoring Woolly Hat Week, particularly for a cause so close to our hearts. Lloyd's Register staff are holding their own Woolly Hat day collection and hope others in the industry will join in the fun and do the same. It's a simple way to make a big difference to seafarers in need."