John Kermet Promoted to COO at Seakeeper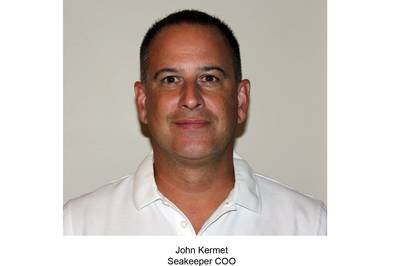 John Kermet has been promoted to the position of chief operating officer at Seakeeper.
He previously served as VP of sales, marketing and service for the California, Maryland-based manufacturer of gyro stabilization systems. Seakeeper co-founder and CEO Shep McKenney made the announcement.

Kermet joined Seakeeper in 2008 as VP of sales and marketing and was charged with commercializing the fledgling product worldwide. Soon after, all field service responsibilities were assigned to him, which he molded into an industry-leading organization. Kermet's extensive technical experience, product knowledge and customer relationships have him well-positioned to help lead Seakeeper to the next levels in its explosive growth.

McKenney said, "John has demonstrated his professionalism and commitment to Seakeeper in managing our worldwide sales and service network and directing multiple company initiatives. He understands the market and needs of our customers, our products and technology portfolio, and our organization's tremendous growth potential. He enjoys the respect of our people and is a pleasure to work with. I am excited about our future with John at the helm. He is the right person for this job."

Kermet went on to say, "Seakeeper's continued success, in a really tough economy, is a testament to the product and company behind it. As we push to the next phase of our growth, I look forward to the opportunity of leading Seakeeper to our goal of becoming the world's leading supplier of gyro stabilization systems. We have a phenomenal team in place, tremendous development initiatives, and a product that really is changing boating forever."

Kermet graduated from the University of Massachusetts Lowell with a B.S. in mechanical engineering, and held sales and engineering roles in plastics and manufacturing. He co-founded a specialty packaging equipment company and oversaw its sales and marketing for 12 years before joining Seakeeper.