SeaStrider (SWATH): Crew Boats for Offshore Wind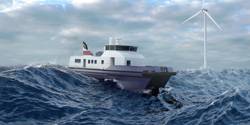 SeaStrider (SWATH): Trailblazing Modern Crew Transport Vessels for Offshore Wind Farms.
Truly a vessel that "Walks on Water"; introducing Danish Yachts' answer to SWATH (Small Waterplane Area Twin Hull) Danish Yachts is to launch its advanced new range of commercial vessels – SeaStrider. Designed for high-speed passenger transport, SeaStrider is groundbreaking both in terms of design technology and build and is the first carbon fibre SWATH to be built. The first boat under construction in the range is the SeaStrider SWATH for carrying service
personnel and cargo to the Offshore Wind Farms, and for transit between the wind towers. This pioneering new vessel has already been tank tested to significant wave heights, permitting operation in almost all weather conditions, while maintaining safety and comfort.

This version is designed to an overall length of 25 metres, providing ample space for 24 passengers and 5 crew over a range of around 500 nautical miles. The purpose of this rugged high-speed craft is to carry initially the construction teams, and then the maintenance and emergency repair teams to and from the offshore windmill turbine farms efficiently, safely and in total comfort. The twin hull configuration with a beam of 10.6 metres, in itself provides more lateral stability. SeaStrider is easy to manoeuvre in high winds using precision controls to ensure safe placement of the turbine maintenance teams onto the wind tower dock at the base of the turbine. In addition for passenger and crew safety of transfer to the platform, the vessel is to be fitted with the base for use of a gyro transfer gangway on the transom.

This SWATH design has a clear bridge area with good all round vision, boasts comfortable seating and dining areas for passengers, at the same time providing comfortable crew sleeping quarters with 3 single and one double cabin. SeaStrider (SWATH): Trailblazing Modern Crew Transport Vessels for Offshore Wind Farms Importantly SeaStrider is fitted with specially designed brackets for a single point lift, providing a "one wire" lift either on land or on a larger platform at sea. Once ashore, SeaStrider can be placed on a flat surface, without the need for any supports or a cradle. A key factor for SeaStrider is the innovative construction techniques for which Danish Yachts is renowned.
Lightweight carbon fibre build maximises fuel efficiency, and with less requirement for fuel capacity, this allows more room for passengers and cargo. This method of construction guarantees an extremely strong vessel at a reduced weight, ensuring minimum impact when mooring up at the wind tower. A further important element was to keep the vessels throughout their working life to the minimum maintenance down time, maximising their time on the water with planned budgetary outlays for refit.