U.K. Defense Secretary Marks Creation of Carrier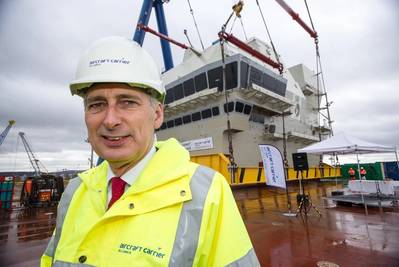 British Secretary of State for Defense, Philip Hammond, signaled a key moment in the creation of aircraft carrier HMS Queen Elizabeth during his visit to the assembly site, Babcock's Rosyth Dockyard.

While Aircraft Carrier Alliance workers looked on, Mr. Hammond started the final stage of the operation to lower the ship's iconic bridge section—also known as the forward island—into place, completing the bow end of the 65,000-ton aircraft carrier.

The Defense Secretary said, "The addition of the forward island is a significant milestone for HMS Queen Elizabeth, which is now entering the final months of her construction. The workforce at Rosyth should be proud of their involvement in developing the largest and most technologically advanced warships the UK has ever had.

"The Queen Elizabeth Class of Carriers will be in service for up to fifty years, providing the Royal Navy with highly versatile and potent capability that will enable the UK to project its power and carry out a wide range of tasks around the world."

The section was constructed at BAE Systems in Portsmouth and transported to the Babcock assembly site in Rosyth by barge last month. It weighs 700 tons and houses the ship's bridge, stores, a galley and accommodation for the captain and navigation crew.
Program Director, Ian Booth said, "The fitting of the first island means the front section of the ship is structurally complete and HMS Queen Elizabeth is now unmistakable as an aircraft carrier.

"This is another huge milestone for the Aircraft Carrier Alliance and another reason to take pride in this historic program."

The Queen Elizabeth Class ships are unique, both having two islands. The sections provide independent control of the ships' navigation and air traffic control operations.

The captain will have a dedicated bridge to control the navigation of the ship and the air traffic controllers will have a dedicated tower perfectly positioned to oversee the movement of aircraft on-board.

The aircraft carriers HMS Queen Elizabeth and HMS Prince of Wales are being delivered by the Aircraft Carrier Alliance, a unique partnering relationship between BAE Systems, Thales U.K., Babcock and the U.K. Ministry of Defense.