Self-lubricating Bearing Polymer: Safe, Easy to Machine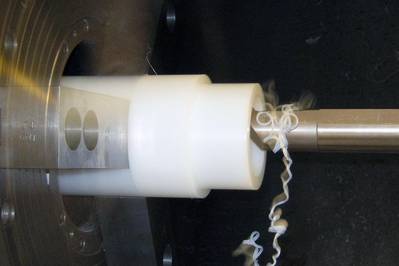 Many plastics and metallic alloys present machining challenges as some deform and are difficult to maintain exacting tolerances, while others require strict and costly adherence to environmental regulations. Vesconite claims to solve these issues with a high-performance bearing polymer that is easy to tool on standard metalworking equipment, nontoxic and environmentally-friendly.
Vesconite is an advanced, internally-lubricated polymer that reliably performs in wet, dirty and corrosive environments, the manufacturer said. The material has a long wear life—more than 10 times that of bronze—so maintenance costs are reduced. Homogenous, it cannot delaminate. With low thermal expansion, it offers high load strength and dimensional stability, and doesn't swell or soften in water like nylon.
Easy to machine on lathes and milling equipment, including CNCs, Vesconite can be machined to a precision of 0.0005". It does not creep or deform. It cuts quickly and doesn't dull tools as do some plastics and metals. When a project calls for a non-standard bearing size due to shaft wear or housing damage, the material can be turned from hollow bar or tube stock.
Vesconite doesn't contain hazardous dust or fibrous waste in its machining residue. In fact, it's a food-grade material with NSF and WRAS-approvals. While proper safety equipment should be used when working with Vesconite, its clean shavings are not a health hazard.
Vesconite can be ordered for immediate shipment from the company's Texas warehouse. Hollow bar, solid and plate stock shapes are available in a wide range of dimensions and thicknesses. Ready-to-use components and customer-specified finished parts have a quick turn-around.