Semi-automatic Welding Guns: New Bernard Catalog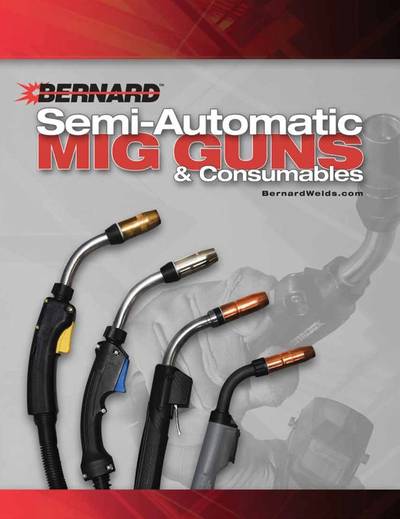 Bernard has a new catalog available to help guide customers select company's semi-automatic MIG guns & consumables.

The new full-color Bernard Semi-Automatic MIG Guns & Consumables catalog includes valuable product feature and benefit information, as well as comparative reference charts and amperage rating charts to make it easier for customers to determine the right product for their welding needs.

Bernard included full-page spreads in the catalog that feature details on its popular Bernard™ Q-Gun™ Series, along with its Bernard Dura-Flux™ Self-Shielded Guns and the new Bernard FILTAIR® Fume Extraction Gun. It also features information on the new Bernard T-Gun™ and TGX™ Semi-Automatic Guns (formerly Tregaskiss™ TOUGH GUN™ and TGX Semi-Automatic MIG Guns). Each page offers photos, diagrams and charts that are easy to read and compare with other products in the catalog.

Customers can also find information on Bernard consumables in the Bernard Semi-Automatic MIG Guns & Consumables catalog, including Centerfire™ Series nozzles,

Download the catalog here.