Crowley Maritime Tugs Deliver Massive Semi-Submersible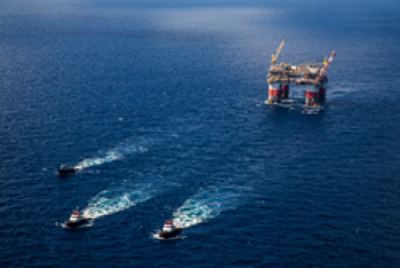 Crowley Maritime Corp. inform that its ocean class tugs have successfully delivered oversized, overweight equipment – comprised of topsides, tendons, piles and more – that are now part of a massive semi-submersible floating production facility located in the U.S. Gulf, approximately 280 miles south of New Orleans, La.
Working alongside the tugs were Crowley's 455 series high-deck-strength barges, which carried much of the equipment as it was towed offshore. Utilizing the Crowley tugs' dynamic positioning capabilities, the facility, known as Jack/St. Malo, was successfully moored and made storm safe at a depth of 7,000 feet between the Jack and St. Malo offshore oil and natural gas fields, which are within 25 miles of each other.

Scheduled to begin producing oil and natural gas later this year, the facility will have a capacity of 170,000 barrels of oil per day and 42.5 million standard cubic feet per day of natural gas. Jack/St. Malo will act as a hub for the 43 subsea wells, including pumps and other equipment on the seafloor.

"This was another successful pairing of Crowley's new ocean class tugboats and high-deck strength barges," said Crowley's John Ara, vice president, solutions. "Not only was the project completed safely and on time, but it also helps to illustrate the increasing competence and capability of our crew and vessels. We look forward to utilizing these specialized teams and assets in projects in the future."

Crewmembers involved in the project include Captains Charles Alan Williams, Andrew C. Ashworth, Ted Caffy, Brian Cain, Stuart B. Andrews Jr., Stephen Berschger, Laurence Christie and Ward P. Davis; Chief Mates Darrel Koonce, Dustin Marks, Clyde McNatt, James Hoffman and Scott R. Ellis; Chief Engineers RD Lewis, Charles Pate, Scott Bovee and Edgar C. Henson; Able-Bodied Seamen Terry Laviolette, Ryan Landers, Dave Heindel, Orvin McCoy, Preston Harper, Farrell Bodden, Steven Kendrick, Jonathan Solomon, Corey Hill, Satchel G. Caffy, Ben E. Johnson and Edward J. Rynn; Assistant Engineers Micheal Bibby, Keith Smith, Matthew Hamer, Andralesia Terrell, Richard A. Saunders, James H. Murray, Thomas Murphy and Isaac Levine; Second Mates Travis Cheer, Nate Leachman, Eric A. Eaton, Cecil Wilson and Ray Adams; Third Mate Scott M. Tompkins; Dynamic Positioning Officer John Willson; and Ordinary Seamen and/or Cooks Johnny Godwin, Stephen R. Goletz, Rene Fuentes, Evan Flynn and Glen Williams.

www.crowley.com