Perfect Platform: Innovative Semi-Submersible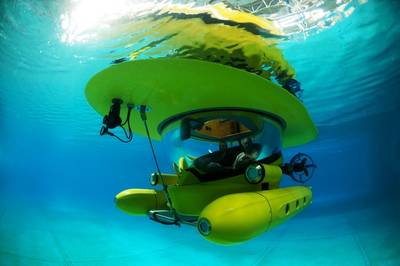 QinetiQ's Ocean Basin provides the perfect platform for the successful testing and commercial demonstration of an innovative semi-submersible.
QinetiQ, a world leading provider of a range of maritime services, has provided test and demonstration facilities for MSV Explorer, an innovative sea going semi-submersible. MSV Explorer is the brainchild of Chris Garner and has been designed to support a wide range of marine activities and applications including film making and documentaries, surveying, security and defence, treasure hunting and marine conservation.
MSV Explorer is an electrically powered, dual joystick or conventional throttle controlled, dry cockpit surface water craft, designed and engineered to place two observers within an acrylic cockpit below the surface of the ocean at a constant 1.2 metres. It is sufficiently manoeuvrable to turn on its own axis and is powerful enough to keep pace with large marine creatures such as the Whale Shark.
"We needed a clinical scientific and flexible testing environment within which we could run all the exacting and rigorous tests on the Explorer. QinetiQ's Ocean Basin met our requirements perfectly. Not only is it an awesome facility but also there are a large number of QinetiQ maritime experts across a broad range of disciplines available to us should we need further support. In addition QinetiQ's Ocean Basin was the ideal forum to showcase and demonstrate the full and extensive capabilities of the Explorer to invited guests. This is reflected in the orders we received from the day," Chris Garner, Founder & CEO, MSV Explorer Ltd
With a volume of 40,000 tonnes of clear water, QinetiQ's Ocean Basin is one of the largest hydrodynamic facilities in the world. It contains a wide range of specialised state of the art equipment including a wave maker capable of making regular waves up to 0.5m in height and long-crested irregular waves with significant wave heights up to 0.25m, a rotating arm and a tracking facility equipped with Qualisys Motion Capture System. The facility has tested 000's of surface and underwater vessels for both the defence industry and commercial customers.
"We are very pleased to have been able to support Chris Garner in his efforts in bringing to market a highly innovative and exciting vessel. It further demonstrated the capabilities of the Ocean Basin facility which is used by a wide range of defence and commercial organisation to test ships and submersibles of all kinds," said Ian Grant, Head of Programmes, Maritime Platforms, QinetiQ.