Westfalia Separators for "Triple E" Class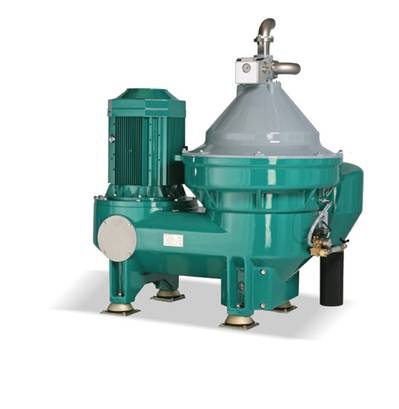 The Korean company Daewoo Shipbuilding & Marine Engineering (DSME) has placed an order for a total of 160 separators of the new eagleclass generation with GEA Westfalia Separator Group.
They will operate on the twenty unequalled Triple-E container ships of A.P. Moeller Maersk shipping line, which will be launched between the end of 2013 and 2015. The Triple-E class is a new development of superlative in many respects.

Every ship will be 400 metres in length, 59 metres in width and 73 meters in height, and can load 18,000 twenty-foot containers. The draft will be around 14.5 metres. Maersk will use these container ships to set up a daily shuttle service between Asia and Europe in order to be able to optimally serve the increasing trade demand between the two continents. Triple-E stands for economy of scale, energy efficiency and environmentally improved. In detail this means: the capacity of 18,000 TEU increases by 2,500 containers or 16 percent compared to the largest container ship Emma Maersk so far. The fuel oil consumption is reduced by 35 percent, and the Triple-E ships produce 50 % less CO2 emissions per container moved than the industry average on the Asia-Europe trade.

The eagleclass separators fit into this concept in an excellent way. With the reduced energy consumption of the OSE type by 30 percent, the lower space requirement and the better cost-to-performance ratio, they contribute to the efficiency and the environmental friendliness of the Triple-E ships. On account of the GEA Westfalia separator unitrolplus they are able to monitor and control oil regeneration fully automatically. This new generation of sensors controls a highly precise volume feed of displacement water for final oil displacement prior to discharge which leads to a further minimisation of oil losses and best possible separation, less discharge and lower sludge tank load.