First of Series LCS Stops Off in Pearl Harbor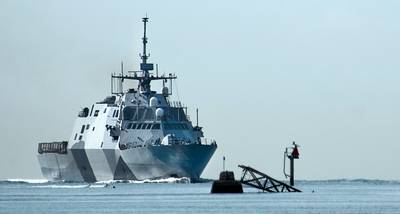 Navy's First Littoral Combat Ship, 'USS Freedom' (LCS1) visits Pearl Harbor en route to Far East deployment.

The ultra- modern U.S. Navy ship, bearing a four-color camouflage combination of flat black, haze gray, haze white and ocean gray, arrived at Pearl Harbor after departing her homeport of San Diego to deploy to the Asia-Pacific region.


Following a brief port visit, USS Freedom will deploy to Southeast Asia and Singapore for approximately eight months. Marking the first of many planned rotational deployments to the Western Pacific for the new LCS platform, Freedom will conduct maritime security operations with regional partners and allies.


The ship was specially created to be able to maneuver in areas of water difficult for many larger Navy ships. The littoral zone refers to the part of a sea, lake or river that is close to the shore.

 "This vessel, the littoral combat ship, is really designed for operating in the littoral shores of the land, what we commonly refer to as brown water," said Cmdr. Timothy Wilke, USS Freedom commanding officer. "It does have a capability to operate in blue water, but it's mainly focused on bridging that gap of what we have in our ship class right now."

"
After making initial port visits in Hawaii and Guam, Freedom is expected to participate in the International Maritime Defense Exhibition and Conference (IMDEX) in Singapore and in select phases of the Cooperation Afloat Readiness and Training (CARAT) exercise series in Southeast Asia.