Osiris Order Specialist Shallow-water Survey Vessel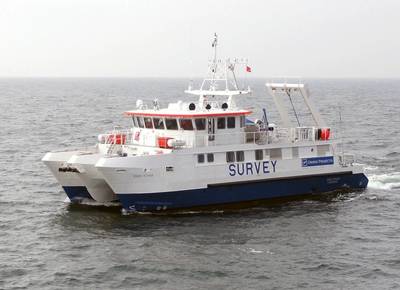 Osiris Projects, part of Bibby Marine Survey Services, announce the start of construction by French shipbuilder Socarenam in Boulogne, of a sister ship to 'Bibby Tethra', to be named 'Bibby Athena'. A few subtle changes to the design for the new vessel reflect the company's development into shallow geotechnical sampling and a more challenging offshore market.
Launched in 2011, Bibby Tethra has proven the overall success of the small waterplane area twin hull (SWATH) design in maximising stability and seakeeping ability in challenging sea conditions, while consistently achieving quality data. The popularity of the vessel with the company's key clients is ultimately behind the decision to commission and build an additional vessel.

Although Bibby Athena will be the same overall length as Bibby Tethra at 27.5m, the vessel will benefit from a number of enhancements, including an increased deck crane capacity of 10.87 tonnes and improved internal layout. The addition of two forward Schottel pump jets and larger aft electric Schottel drive motors will provide exceptional DP1 capability and an increased generator size will provide 850kVa of electrical power.


To maximise efficiency, Bibby Athena will be permanently mobilised with a dual-head multibeam system, greatly improving the productivity of bathymetric data acquisition and a water treatment facility will be added to extend offshore endurance. On the same theme of efficiency, a double drum main winch with two cable sizes will allow deployment of multiple systems without the requirement for remobilisation. A larger online survey lab will improve the volume of data processing and initial QC that can take place on-board, reducing the amount of processing required in head office.


Osiris Projects Managing Director Andy McLeay comments "Placing the order for a twin sister vessel to Bibby Tethra is quite a milestone in the history of the Company as it acknowledges the great success achieved with the original concept of providing the 'ultimate' coastal survey vessel."