Shanghai Homeport for New Cruise Ship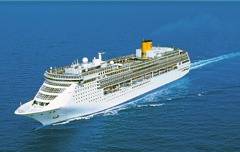 Costa Cruises held a launch ceremony for 'Costa Victoria' at Shanghai Wusongkou International Cruise Terminal, Shanghai
Shanghai Wusongkou International Cruise Terminal will be the home port for Costa Victoria, which will provide 33 itineraries a year, making Costa Cruises the biggest international operator at the terminal.
With the explicit support and encouragement from the Chinese government Costa Cruises has been running cruises from Shanghai since 2006. At the end of this year it's estimated that Costa will have operated more than 300 cruises and holidayed over 300,000 people from China.
The growth of the market means that the Asia Pacific region is one of the most important for Costa Cruises, particularly the China market.
"We are thrilled to see Costa Victoria launch from Shanghai Wusongkou International Cruise Terminal" said Mr. Pier Luigi Foschi, the Chairman and CEO of Costa Crociere S.p.A. "She embodies our commitment to the China and Asian market. We were the first international cruise company authorized to operate in the China market and so it's with great pride that I can attend today to see one of our finest cruise ships leave from this remarkable port in this spectacular city. Costa Cruises has long held a special relationship with this region and we're pleased to confirm that next year we'll be increasing our investments here still further."
The event was hosted by Shanghai Baoshan People's Government, Sinotrans & CSC Shanghai Changjiang Shipping Corporation, Shanghai Wusongkou International Cruise Terminal Development Co., Ltd and Costa Crociere S.p.A. Ms. Zhao Wen, Vice Mayor of the Shanghai Municipal Government, Mr. Xue Chao, Deputy Secretary General of Shanghai Municipal Government and many members of Shanghai People's Government and Baoshan District People's Government were in attendance.