Drydocks World Enters Into Shareholders Agreement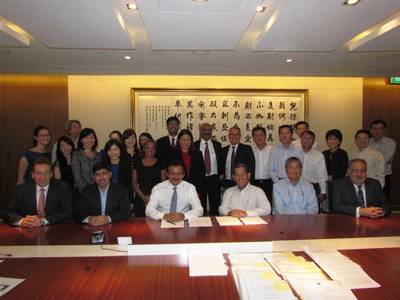 Drydocks World LLC (DDW LLC) & Pacific Carriers Limited (PCL) a fully owned subsidiary of the Kuok (Singapore) Limited Group has announced that they have entered into a Shareholders Agreement in respect of the Drydocks World-Southeast Asia Pte. Limited (DDW SEA) Group.

Under this agreement which was signed on September 26th 2012, PCL acquired & subscribed to 67% of the shareholding of DDW SEA. DDW SEA had recently completed a debt restructuring scheme in Singapore resulting in DDW SEA being a debt free company.

DDW SEA will be renamed as DDW-PaxOcean Asia Pte Ltd (DDW-PaxOcean). As the holding company, the PCL Group will take effective lead in providing management oversight of DDW-PaxOcean Group. DDW-PaxOcean has a new Board of Directors, chaired by Khamis Juma Buamim, Chairman of Drydocks World & Maritime World. The day to day operational management of DDW-PaxOcean, comprising a shipyard in Singapore, 3 shipyards in Batam & a shipping division will be managed by a newly assembled management team. PCL is the shipping arm of the Kuok Group, which also operates two shipyards in China; in Zhuhai and Zhoushan. The Zhuhai yard specializes in the construction of offshore vessels while the Zhoushan yard is equipped with two large docks capable of accommodating the largest ultra size container vessels, VLOCs and semi-submersibles.

DDW LLC is a recognized & established global player in the Marine industry covering all areas related to Offshore and Engineering, Ship Repairs and Maintenance, Shipbuilding and Conversion, Shipping and Chandlery, Maritime Clusters and Yacht Repair.

The strong legacy brought by both partners will enable DDW-PaxOcean, to build and deliver jack-up rigs, semi submersibles, FPSO/FSRU and other sophisticated marine vessels, including repairs and conversions. The partnership will also result in combined shipyard facilities with wide ranging capabilities, and a geographical coverage from the Middle East to East Asia, spanning the Indian & Pacific Oceans.

Over the next few months the newly constituted management team of DDW-PaxOcean will embark on measures to revitalize and build up both the DDW-PaxOcean shipyard business, comprising the Singapore & Batam shipyards, and the shipping business, as we prepare to meet the challenges ahead.