New Ferry for Shenzhen Peng Xing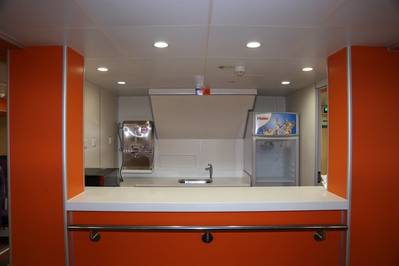 CoCo Yachts Coastal Cruiser 200 – Peng Xing 15 Delivered

Designed for reduced fuel consumption at high speed and full load condition, the contract speed of 31.5 knots with only 2 x 1080 kW installed power was a challenge. The expected fuel reduction compared to similar vessels should be at least 15%. Due to weight control from both designer and builder, the vessel was built 5% lighter than estimated and with the outstanding performing of engines and jets, the average speed at full load condition was recorded at 32.8 knots, resulting in a reported fuel saving of 20%.

The aluminum hull and superstructure are designed and built in accordance with CCS rules and regulations, and optimized where possible with Siemens FEMAP FEM system to reduce the weight as reasonable possible. All foundations, railings, doors, interior and paint system have been checked and improved where possible.

Machinery and systems have been modeled in Ship Constructor to ensure the shortest possible routing through the vessel.

The interior is spacious and light, with big windows to ensure good outside views; and 163 economy seats are placed on main deck aft, while 28 business class seats are placed on main deck fore.

On the upper deck two VIP cabins for five persons each and two crew for four cabins crew each are placed. All crew and passenger areas are outfitted with sea water cooled split –units air-conditioning – heating system.

The wheelhouse provides space for four crewmembers, and has a 360 degrees free view outside. From the seated position the bow can be easily seen. CCTV system provides inside views and outside views, which are monitored in the wheelhouse.

Shenzhen Peng Xing Ferry Company is operating fast ferries between Shenzhen, Hong Kong and Macao. Peng Xing 15 is the first vessel from an order of two. Peng Xing has ordered three additional ferries, which shall have a slightly different passenger layout. After two weeks of training with the crew, Peng Xing 15 started operations May 1, 2014.