Ship Repair: May Ship Repair Diversifies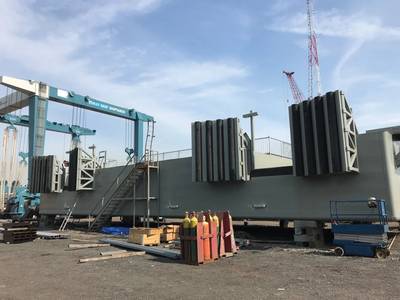 The shipbuilding and repair market has been slightly increasing over the past year with most of the increase being sporadic on vessel repair. New construction has been steady and in May Ship Repairs business, we have been focused on infrastructure expansion such as passenger ferry landings for the City of New York. Looking to the future, May Ship anticipates this trend to continue or even decline due to possible trade tariffs and lack of needed new construction of small to midsized vessels because of market saturation and the current industry conditions.
"As a result of the current market conditions, we are diversifying ourselves to new markets such as industrial structural steel fabrication – full manufacturing and detailing," said Mohamed Adam, May Ship's founder and president.
In addition, it is exploring the potential of the "green" markets, such as wind towers and underwater turbine structures, to name two.
Despite the diversification, May Ship will continue to focus on its core business: new construction, dry-docking & repair and conversion of marine vessels.
To help smooth the cyclical curves in maritime and the steel business, May Ship is investing to upgrade its facilities, modernizing its equipment and adding staff members, most recently appointing Kenneth D. Boothe, Jr., a shipyard operations veteran, as VP of production.
May Ship's Staten Island, New York-based shipyard is comprised of three dry docks with the capacity to dry dock vessels up to 300 ft., and it is in the process of building finger piers to utilize marine travel lift crane capable of handling 600 metric ton vessels – one of the largest on the east Coast.