Thailand's Marsun Shipbuilder Grows Their Crewboat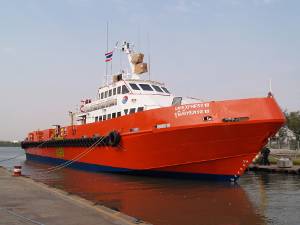 Thailand's Marsun Co. Ltd. has built a number of in-house designed 118-ft crewboats. Earlier this year they launched a 131-ft version.
Delivered in February the Uniexpress 18 went into service in the Gulf of
Thailand
for owner Uniwise Offshore Ltd. transporting up to 70 workers to and
from oil rigs
. In addition to personel, the boat can carry up to 50 tons of cargo on the 120 square-meter after deck. Tankage is provided for 50,000 liters of fuel and 20,000 liters of water.
Propulsion for the 131-ft crewboat is the same as that for Marsun's 118-ft model. This is provided by three Cummins KTA38-M2 diesels each delivering 1350 BHP at 1950 RPM. The engines turn 1050-mm diameter Ni-Al-Bronze propellers through Twin disc MGX-6690SC gears with 1:2.47 ratios.
On sea trials this power package pushed the boat at 23 knots loaded to 30 tons dwt with a comfortable 18-knot cruising speed. Interestingly the 131-ft long by 25-ft wide hull achieved over a knot more speed on sea trials than the 118-ft version of the 11.8-ft deep hull.
Accommodation is provided for a crew of ten on the Uniexpress 18, which has electrical power provided by a pair of 80 kw generator sets.