Newport News Shipbuilding Apprentice School Opened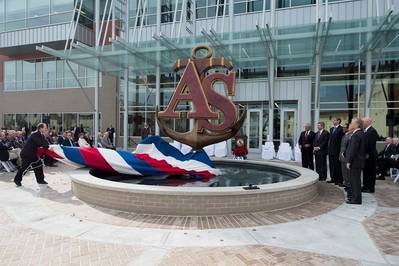 Huntington Ingalls Industries has announced that its Newport News Shipbuilding (NNS) division has officially opened its new Apprentice School, located at 3101 Washington Ave. in downtown Newport News.
Apprentices, faculty and staff were joined by Virginia Gov. Bob McDonnell, U.S. Reps. Bobby Scott and Rob Wittman, Virginia Delegate Chris Jones, Newport News Mayor McKinley Price, HII President and CEO Mike Petters, NNS President Matt Mulherin, Armada Hoffler Holding Co. President and CEO Lou Haddad, and other business and community leaders at the front doors of the school for the celebratory opening event. A 13-foot tall bronze sculpture cast by Eastern Shore artist David H. Turner was also unveiled at the school's entrance.

The 90,000-square foot building triples the school's instructional space with facilities that include eight computer labs, two video teleconferencing classrooms, a physics lab and a 600-seat gymnasium. The school currently accommodates about 850 apprentices and provides office and workspace for faculty, adjunct faculty and staff.

NNS partnered with Armada Hoffler, the City of Newport News and the Commonwealth of Virginia on the project, which includes the school, workforce housing, retail space and a parking garage.

The Apprentice School accepts about 250 apprentices per year. The school offers four- to 8-year, tuition-free apprenticeships in 19 trades and eight optional advanced programs. Apprentices work a regular 40-hour week and are paid for all work, including time spent in academic classes. Through partnerships with Thomas Nelson Community College and Tidewater Community College, The Apprentice School's academic program provides the opportunity to earn associate degrees in business administration, engineering and engineering technology.

"What people ask me about more than almost anything else—besides maybe money and infrastructure—is: What are you going to do to sustain our workforce long-term?" Gov. McDonnell said. "This Apprentice School is really a great testament and a model for how to do it right, and community colleges and others around the state are beginning to see what's happened here and use some of the fine programs here as a model for how to do vocational and career and technical training."