An Argentinian Shipbuilding Revival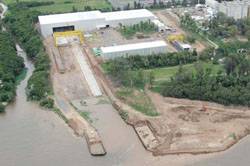 According to a blog on the Bulletin Panama (http://thebulletinpanama.com), there is a boatbuilding revival happening in Argentina.
The export of tugs and barges by Astillero Punta Alvear marks the revival of the Argentine shipbuilding industry, creating both foreign exchange and jobs with skilled labor and knowledge that was in danger of being lost after years of inactivity, as reported on http://thebulletinpanama.com
The plant, near the city of Rosario, on the Rio de la Plata, is equipped with the latest naval processes using national steel for the construction of boats.
The story reports that to date, 21 double-hulled tank barges of 3,000 cubic meters capacity have been delivered and another 21 of 2,500 tons each, for the transport of bulk and dry cargoes.
The latest delivery was for the reported to be for the Ultrapetrol group, launching the port towing and maneuvering tug Neptuno, built for the UABL river transport company, which will use it for the movement and berthing of barges in port terminals in the area of San Lorenzo, and the Paraná-Paraguay rivers.
The boat measures 21.8 x 7.8 m, with a total of 1,500hp generated by three 500 HP engines.