Chesapeake Shipbuilding Adds Tug to Order Book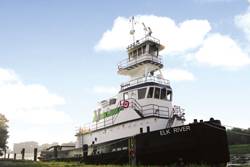 Chesapeake Shipbuilding Corp of Salisbury, MD announced today that it signed another new contract on December 29, 2011 with Vane Brothers of Baltimore, MD to build an 8th ocean going tug.
This is the second new tug that Vane has ordered from Chesapeake in the month of December. Chesapeake Shipbuilding now has three tugs under construction for Vane Brothers and a 260' luxury cruise ship for American Cruise Lines of Guilford, CT.

Speaking on the relationship with Chesapeake Shipbuilding, Duff Hughes president of Vane Brothers, said "we have a rhythm and the fact that they have the construction process down to a T made it an easy decision. And we hope we will be building No. 9 and 10 there."

Construction on the new tug began immediately in one of Chesapeake Shipbuilding's hull fabrication buildings. Two weeks earlier, the shipyard commenced construction on the 7th tug in an adjacent building. The two vessels share the same layout and design, allowing for production efficiencies.

The newest tug, designated Hull 106, will be equipped with twin Caterpillar 3512 main engines producing a combined 3,000 horsepower. The tug will measure 94' long with a 32' beam, and a 13' depth.