U.S.'s Eastern Shipbuilding Christen, Launch Hornbeck OSV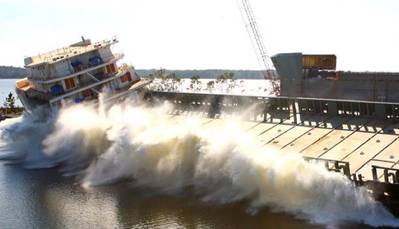 Offshore Supply Vessel (OSV) 'Red Dawn' has been launched from the Eastern Shipbuilding Group's Allanton facility.
Attending from Hornbeck was Todd Hornbeck, President & CEO, and Carl Annessa, Executive Vice President & COO, along with 12 senior members of the Hornbeck Team witnessing the launch of the first of ten HOSMAX Offshore Supply Vessels under contract with Eastern.
Captain Billy Haugh, who will be taking the vessel to sea as Master once it delivers later this year, and his wife Shandale had the honor of christening the vessel. Eastern's President, Brian D'Isernia said a few words about the bright future of Shipbuilding in the United States and the Offshore Marine Industry prior to the launch. Deacon Earl Mirus of Saint John's Catholic Church located in Panama City, Florida performed the blessing of the vessel.

The first four vessels have been designated as the HOSMAX 300 series by Hornbeck Offshore and are approved USCG, ABS, SOLAS, DPS‐2, AC Diesel‐Electric powered, twin Z‐drive propelled OSV's measuring 292'x64'x24'‐6".

The Red Dawn is the first of four HOSMAX 300 Offshore Support Vessels under contract, and the remaining six vessels under contract are the larger 302'x64'x26' designated HOSMAX 310 Offshore Support Vessels.
STX Canada Marine provided the design for both vessels which is the basis for the very successful and proven Eastern Shipbuilding "Tiger Shark Class" series.
Hornbeck Offshore Services has made the commitment to service the anticipated increase in deepwater and ultra‐deepwater drilling activity in all three of its core geographic markets of the US Gulf of Mexico, Brazil and Mexico.