Eastern Shipbuilding Get GLDD Dredger/Tug ATB Contract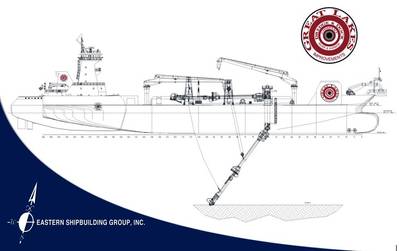 Eastern Shipbuilding inform that Great Lakes Dredge & Dock Company, LLC (GLDD) has placed orders for construction of a 433' Trailing Suction Hopper Dredge Barge and a 158'-4" 15,600 BHP, CPP Tug.
Named the GLDD302 (ESG Hull 252), the ATB Tug detailed engineering is being performed by Ship's Architect, Inc. and the GLDD151 (ESG Hull 253), the ATB Dredge Barge by Bay Engineering, Inc. Both are based upon an Ocean Tug & Barge Engineering, Inc. ATB design. This Trailing Suction Hopper Dredge, Articulated Tug and Barge (ATB) Unit, will be delivered in 2016.
Eastern says it is proud to assist Great Lakes in delivering this investment in the maritime future of America, constructing these two state-of-the-art "Jones Act" vessels to meet the Country's growing needs.

The Great Lakes dredge will be a key tool in performing the restoration of the eroded land mass in the Gulf Coast States. Additionally, the vessel's ability to cost-effectively deepen and maintain navigable waterways will bolster the United States' competitive position in world trade, as the nation's ports move forward with deepening plans to accommodate the larger vessels, which will sail through the expanded Panama Canal.

Eastern add that Great Lakes Dredge & Dock Corporation is the largest provider of dredging services in the United States and the only U.S. dredging company with significant international operations. Great Lakes Dredge also owns and operates the largest and most diverse fleet in the U.S. industry, comprised of over 200 specialized vessels.