Hercules of Korean Shipbuilding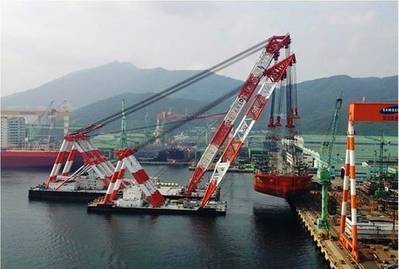 Samsung Heavy Industries use 'Megablock' techniques to create ever larger blocks & minimize shipbuilding assembly works
Samsung Heavy Industries recently achieved a new milestone, successfully carrying a block that weighed as much as 9,283 tons – quivalent to the combined weight of 133,000 adults of average weight, this is the heaviest block ever built in the global shipbuilding industry.

Building gigantic structures of the size of apartment buildings or bigger, and putting them together with top-level precision require advanced technology and facility. Super-size cranes to lift them are also a must.
The Megablock technique is not the only example of Samsung Heavy Industries challenging the conventional method of building ships. While most ships are built on shore and have to be later moved to the sea to be launched, Samsung has long adopted the "offshore floating dock," which allows building vessels off shore for a quicker launch.
Samsung Heavy Industries says it boasts the world's No. 1 share in drill ships, ultra-large container ships, LNG (liquefied natural gas) carriers and FPSO (floating production storage and offloading). And building on this specialty, it is expanding its leadership in offshore facilities including fixed platforms and LNG-FPSOs.