Eastern Shipbuilding Launch First Hornbeck HOS 310 OSV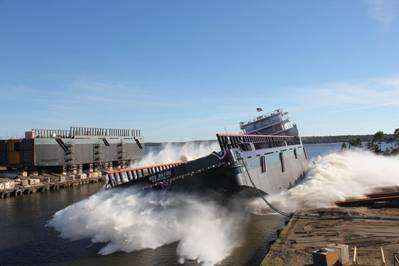 Eastern Shipbuilding Group, Inc. has launched the 'HOS Bayou' for Hornbeck Offshore Services, LLC. The launch was held at Eastern's Allanton facility with hundreds of Eastern employees and guests attending, including Mr. Jack Reid, Florida's Governor Rick Scott's Regional Representative.
Attending from Hornbeck was Bill Krewsky, Director of Engineering and Project Management, who spoke about the long term commitment, partnership and future of the two companies. He, once again praised the quality of workmanship, the ongoing vessel deliveries and the excellent performance of the HOS RED DAWN, and the HOS RED ROCK both now on charter working in the Gulf of Mexico.
Captain Steve Powell will be taking the vessel to sea as Master once she delivers early next year. His wife Susan had the honor of christening the vessel; they were accompanied by their two children, Mitchell and Linda.

The HOS BAYOU is the first of six vessel Eastern vessels designated as the HOSMAX 310 series by Hornbeck Offshore and is a diesel-electric powered, twin Z-drive propelled OSV, capable of a maximum speed of 14 knots with a cruising speed of 12 knots. The fully integrated bridge is arranged for increased visibility and features the latest technology in navigation and communication equipment.