MHI Licenses Deck Machinery to Imabari Shipbuilding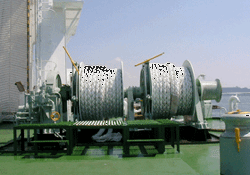 MHI licenses deck machinery manufacture & marketing to Imabari Shipbuilding to expland its share of MHI technology-based products
Through licensing, MHI aims to expand market share of deck machinery based on the company's technology and, at the same time, respond to requests from Imabari, which looks to enhance business through deck machinery production. The production of licensed machinery is scheduled to be started in April 2013.
Deck machinery mainly consists in this instance of anchor windlasses and mooring winches. MHI manufactured its first deck machinery in 1962. The company's deck machinery has built up a solid delivery track record and has won high reputation from customers for their high reliability, and durability.

Imabari Shipbuilding is Japan's largest shipbuilder, with the highest new ship building tonnage and ship sales, building various types of ship.
Hydraulic pumps and motors, which drive the equipment, will be supplied by MHI. Imabari plans to build the deck machinery at the shop in Dalian Imaoka Shipbuilding Co., Ltd., a ship block manufacture plant that Imabari has established in Dalian, China.