Ingalls Shipbuilding Inks US Navy LPD 17 Support Services Contract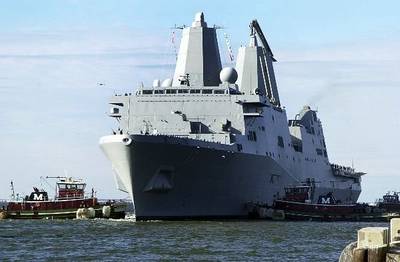 Huntington Ingalls Industries shipbuilding division awarded engineering & support services contract for 'San Antonio'-class.

The $54-million cost-plus-fixed-fee contract is for life-cycle engineering and support services on the U.S. Navy's USS San Antonio (LPD 17) class of amphibious transport docks.

Services to be provided in this contract include post-delivery planning and engineering, systems integration and engineering support, research engineering, material support, fleet modernization program planning, supply chain management, maintenance, and training for certain LPD17-class shipboard systems.

The LPD 17-class ships are a key element of the Navy's ability to project power ashore. Collectively, they functionally replace more than
41 ships (the LPD 4, LSD 36, LKA 113 and LST 1179 classes of amphibious ships), providing the Navy and Marine Corps with modern, sea-based platforms that are networked, survivable and built to operate with 21st century platforms, such as the MV-22 Osprey.

"Our extensive post-delivery support work is vital to the Navy's missions involving these complex amphibious ships," said Doug Lounsberry, Ingalls' LPD 17 vice president. "Our commitment to building quality amphibious ships does not stop at our shipyard. Life-cycle engineering services must also be of the utmost quality to ensure consistent project of excellence for the men and women of our U.S. Navy
and U.S Marine Corps."