Rodriguez Shipbuilding Delivers Powerful Shallow-Draft Tugboat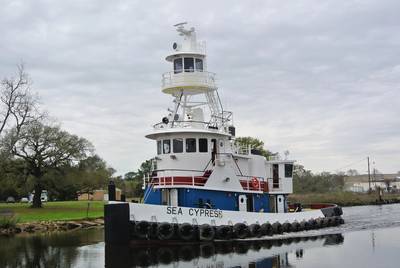 The yard recently delivered a Cummins powered 75 by 28-foot model bow tug to Morgan City-based Garber Bros. Inc. and Sea Cypress LLC for Gulf of Mexico operations, inform Cummins Hotips.
Cummins explain that over the years, Rodriguez Shipbuilding Inc, of Bayou LaBatre Alabama has probably delivered more shallow-draft tugs than any other US-yard. Their signature lugger-type tug design, with its distinctive aft cabin and wheelhouse, has a strong following amongst US Gulf Coast operators servicing near shore petro-operations.
The housework, built forward on this beamy hull, suggests a conventional G of M tug, but it is what is below the water line that will matter to the owner and charterers. The boat has a total of nearly 2000 HP generated by three 660-HP six-cylinder Cummins QSK19 marine engines each turning a propeller through Twin Disc MGX5222 gears with 6:1 ratios. The triple screw configuration allows the design to maintain a shallow ten-foot moulded depth and, depending on load conditions, operate in as little as eight feet of water.

Named the Sea Cypress, the new boat is built to a design by yard owner Joseph Rodriguez It is a near sister to the Sea Oak delivered to Garber Bros. in 2007.

Set up for both towing and pushing, the tug is fitted with SMATCO deck equipment including a waterfall type winch for anchor handling or towing. The stern deck winch also allows the versatile tug to make up to barges for pushing by way of a bridle running through stern deck rollers and side deck rollers.

Source: Cummins Hotips 725