Ingalls Shipbuilding's 2014 'President's Awards for Excellence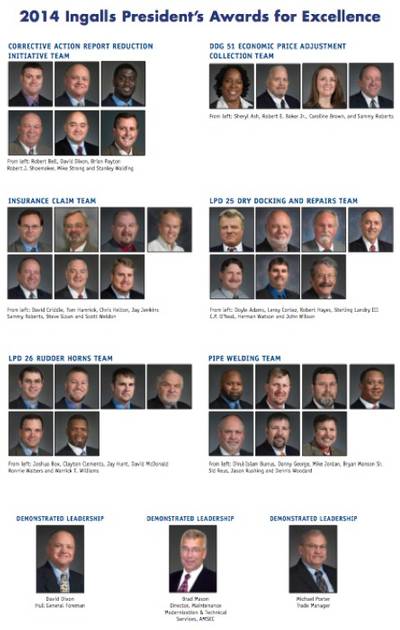 Huntington Ingalls Industries' Ingalls Shipbuilding division has honored six teams and three individuals with "President's Awards for Excellence" for their outstanding and innovative work on shipbuilding projects.

"We build some of the most complex, technologically advanced products in the world," said Ingalls Shipbuilding President Irwin F. Edenzon. "We need men and women who are innovative and engaged in their work. The individuals and teams honored this year exemplify these attributes."

Each year, Ingalls presents the President's Award for Excellence to shipbuilders for their outstanding contributions in the areas of innovation and technology, customer satisfaction and operational excellence.

The 2014 recipients are:
David Dixon – Demonstrated Leadership
Brad Mason – Demonstrated Leadership
Michael Porter – Demonstrated Leadership
Pipe Welding NDT Rates Team – Exceptional Performance
LPD 26 Rudder Horns Team 
– Ditto
LPD 25 Dry Docking Team – Ditto

CAR Reduction Initiative Team – Ditto

DDG 51 EPA Collection Team – Ditto 

Insurance Claim Team – Ditto

Huntington Ingalls Industries designs, builds and maintains nuclear and non-nuclear ships for the U.S. Navy and Coast Guard and provides after-market services for military ships around the globe.

Employing more than 38,000 in Virginia, Mississippi, Louisiana and California, HII also provides a wide variety of products and services to the commercial energy industry and other government customers, including the Department of Energy.