Shaver Launches New Ship-Docking Tug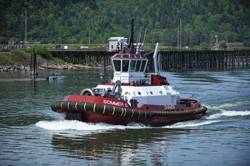 On May 18th 2012, at a ceremony on the banks of the Willamette River in Portland, Oregon, Capilano Maritime Design Ltd. was pleased to attend the christening of their latest design of an 80‐foot Columbia Class ASD Ship‐Docking Tug, SOMMER S, for Shaver Transportation Company of Portland, Oregon.
The tug was built by Diversified Marine Inc., also of Portland, and is the most powerful in Shaver's fleet. The 80‐foot ASD vessel is a twin Z‐drive, diesel‐powered ship‐docking tug designed for maximum efficiency in the performance of ship‐handling, escort, and related harbour support activity services. The vessel is equipped with a hawser winch forward and heavy bow fendering for ship‐assist and escort work. A series of barge handling winches are aft for securing to and pushing bulk barges.

The Columbia Class is a new series of tug designs by Capilano Maritime Design Ltd. The general arrangement is shown in the attached drawing and the vessel has the following particulars:

VESSEL DESIGN PARTICULARS DIMENSIONS

Length Overall 80 ft 24.4 m
Length Rule 77.5 ft 23.6 m
Beam, moulded, extreme 36 ft 11.0 m
Depth, moulded (hull) 14.37 ft 4.38 m
Maximum Draft 17.0 ft 5.18 m