Ahrenkiel Shipmanagement Receives SEEMP Certificate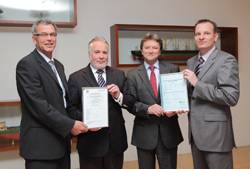 The containership AS Scotia already meets the requirements of the Ship Energy Efficiency Management Plan (SEEMP), which will become compulsory as of 1 January 2013. The SEEMP has been adopted by the IMO as a mechanism for vessels to improve their operational energy efficiency, thereby lowering CO2 emissions.
Ahrenkiel Shipmanagement was presented with a "Preliminary Energy Efficiency Certificate" for the AS Scotia, the first issued to a GL classed vessel. From 2013, all seagoing vessels larger than 400 gross tonnage must carry on board a SEEMP, a management plan for the ship's energy efficiency, according to MARPOL, Annex VI.
Germanischer Lloyd has reviewed the content of the energy-efficiency plan for the AS Scotia and has checked to see if it is on board. Captain Christian Suhr, Managing Director of Ahrenkiel Shipmanagement, and Wolfgang Kempke, Environmental Fleet Manager for Ahrenkiel Shipmanagement, accepted the certificate from Kai Fock, Business Development Manager for GL, and Dr Fabian Kock, Head of the Environmental Certification Department at GL.
The "Preliminary Energy Efficiency Certificate", which can be converted into an International Energy Efficiency Certificate (IEEC) in 2013, was issued by the German Flag State; the shipping company also received a SEEMP Statement of Compliance from Germanischer Lloyd.
"Increasing the efficiency of our ships is a pillar of our climate policy and a positive step - both in terms of the environment as well as for the competitiveness of our fleet," explains Christian Suhr. "That's why we decided early on to introduce the SEEMP and to share our experience with classification societies and other shipping companies. We view the awarding of the International Energy Efficiency Certificate as confirmation of our environmental strategy."
Some of the measures which have been used to improve the energy efficiency of the AS Scotia include: a routing assistance system, speed optimization (super slow steaming), a modern coating for the ship's hull, the use of energy-saving lamps and a video training program for the crew on how to save energy.