Kleven to Build Trawler for Spanish Shipowner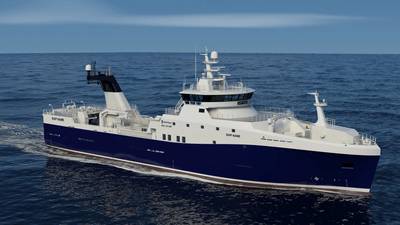 Kleven has signed a contract with Spanish ship-owner Pesquera Ancora S.L.U on the building of a 80 m long stern trawler. The vessel is of NVC 374 WP design from Rolls-Royce, and is scheduled to be delivered in February 2018.

This will be the fourth vessel of the same Rolls-Royce design in Myklebust Verft's order book; two vessels are ordered by DFFU in Germany, one by CDP Saint-Malo & Euronor in France, and this latest by Pesquera Ancora in Spain. In addition, the order book holds two live fish carriers for Norwegian owned Sølvtrans, a trawler for Gitte Henning in Denmark, and an offshore construction vessel for Volstad, based in Ålesund, Norway.

The stern trawler will be ICE 1A* classed, and operational efficiency, low emissions and comfort and safety for the crew have been important criterias in the development of the vessel design.