Boeing 767 Shipped by Barge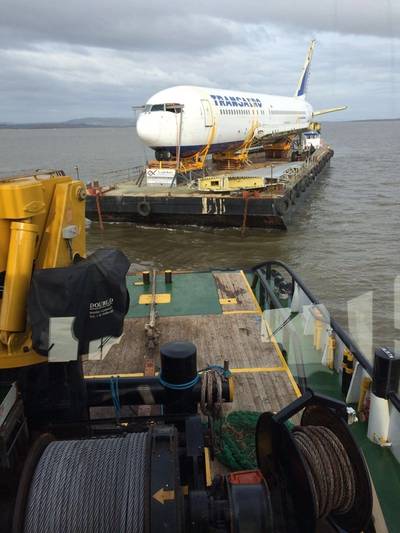 MTS Statum completes marine towage of barge carrying Boeing 767 from Shannon Airport
Marine service provider Marine and Towage Services Group Ltd. (MTS) has completed a charter to deliver a Boeing 767 from Shannon Airport to its new home at the Quirky Glamping site in Enniscrone, Republic of
Ireland
.
MTS said it was selected for the work as its diverse fleet of 30 vessels includes a number of shallow draft tugs that are able to navigate estuarine waterways whilst towing large and complex loads.
The unique one-off contract saw MTS Statum tow the Wilcarry 1500 barge a distance of 1,280 miles. The charter saw the MTS vessel pick up the barge in Southampton, to then take delivery of the aircraft at Shannon Airport, County Clare, and finally tow it to Enniscrone, County Sligo, where the fuselage of the aircraft has now been installed at the Quirky Glamping site.
Once delivered to Enniscrone, the 70-metric-ton aircraft was transported by road, and unloaded by crane to its final position.
"This latest charter shows just how versatile our operational fleet really is," said Steve Bendell, Commercial Manager, MTS. 'It's fair to say that wasn't our first 'quirky' charter and won't be our last, owing to the range and capabilities we have for the vessels in our fleet."