ESL Shipping Launches Viikki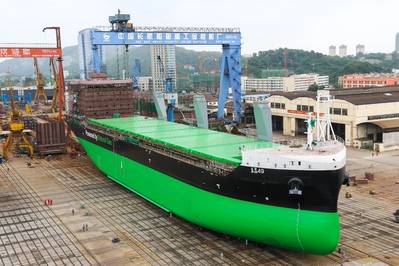 Viikki, the new eco-friendly dry cargo vessel of ESL Shipping, part of Aspo Plc, was successfully launched today at the Jinling shipyard in Nanjing, China.
"The longstanding work in this project becomes concrete today when we see the vessel floating for the first time. There is still a lot of work ahead before her delivery, but I'm confident that we will get a superb vessel tailored to our needs", comments Captain Jussi Vaahtikari.
Viikki is the first LNG-powered handyzise bulk carrier in the world and is a forerunner in
energy efficiency
and eco-friendliness. The 160-meter vessel of 26,000 dwt fueled by liquefied natural gas produces more than 50 percent lower carbon dioxide emissions than vessels of the previous generation.
ESL Shipping, part of Aspo Plc, is the leading carrier of dry bulk in the Baltic Sea. ESL Shipping ensures raw material transport for
steel
, energy and chemical industries year round in difficult ice and weather conditions.
Special services include topping-off and lightering of large ocean carriers at sea. The company's fleet consists of 14 units and the annual transport volume amounted to 10,7 million tons in 2016.