Shipping Season Opens as First Seaways Ship Enters Detroit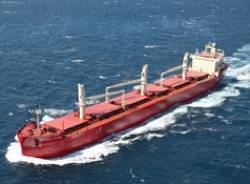 First ocean-going ship, 'Federal Yukina' opens Detroit's shipping season after St Lawrence Seaway transit
The Port of Detroit welcomed the arrival of the ocean going vessel, Federal Yukina as it arrived at the Nicholson Terminal & Dock Company, located at 4105 West Jefferson Ave. in Detroit. The ship's arrival will begin the Port of Detroit's 2012 shipping season.
"With the advent of the warm weather approaching, it is exciting to welcome the Federal Yukina vessel to the Port of Detroit because it signifies freight transportation throughout the St. Lawrence Seaway. This is vitally important to our economies and security," says John Jamian, executive director of the Detroit/Wayne County Port Authority (DWCPA).
The Federal Yukina, a Hong Kong flagged vessel, set sail on March 21, 2012 from Teesport, United Kingdom with a cargo of steel products. The ship, 656 feet long with a 78 foot beam, sailed under the command of Captain N.R. Anand. Hong Kong is its home port. Jamian will present the coveted J.L. Hudson Trophy to World Shipping, the ship's agent at the Port Opening Luncheon.
The Detroit/Wayne County Port Authority oversees and promotes commercial and recreation activities along 32 miles of the Detroit River from Lake St. Clair to the Wayne/Monroe County border.