Ship-spotter: Webcamming
Truth be told, my ship-spotting addiction (nurtured by webcams streaming on the internet and fueled further by excessive desk-time during the 2020 pandemic) actually started with some business purpose. Agents in far flung locales were sometimes not as swift as hoped for with their reports- so when a vessel was visible online, augmented by AIS driven position websites, information flows to clients or partners in various supply chains were improved. It probably started around 2014 when a client's vessel was transiting through Miraflores Locks in Panama. The Panama Canal has a set of excellent webcams; the agents, on the other hand, were less than timely with their various reports.
For those mainly homebound since March, 2020 everyone will have stories of new pursuits. In my case, I needed an additional outlet besides the vessel watching on Long Island Sound. After all, the mainstays like Vane Brothers, Reinauer and Genesis all have regular contracts, and let's just say that sightings of the same vessels moving upbound and then back can get repetitive after a while. So, with real work needs on my mind, I turned my attention to waterfront webcams where it was possible to gain views of different vessels.
Recently, I've been involved with vessels in the U.S. Gulf in ports like Lake Charles, New Orleans and Tampa, to mention a few. In preparation for actual business webcamming, I tried to align the camera angles with maps, practicing on random vessels. Two of these preparatory efforts are shown here.

Tug Jay Devall at Lake Charles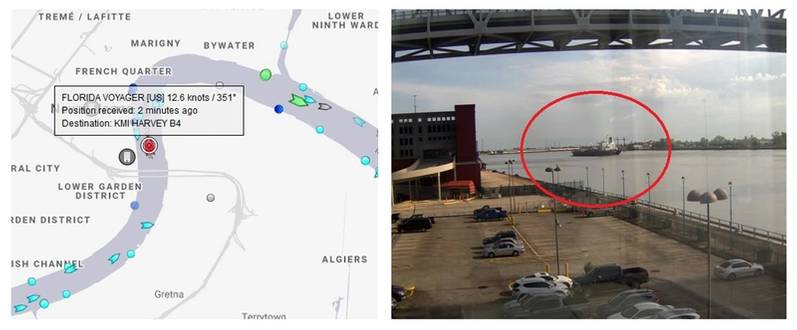 Tanker Florida Voyager downbound on the Mississippi River
In Lake Charles, La., the cam up near the I-210 bridge captures traffic moving to and from the lake. In the picture here, a local tug Jay Devall can be seen pushing a loaded barge downbound passing a golf course near the big casino. In the second pair of pictures, the tanker Florida Voyager (operated by oil major Chevron) can be seen outbound from a Port of New Orleans vantage point at its Cruise Terminal at the Crescent City bridge. The maps are from Marinetraffic.com, with pictures from the respective ports' webcams.