First U.S. Ship-to-Shore Drone Delivery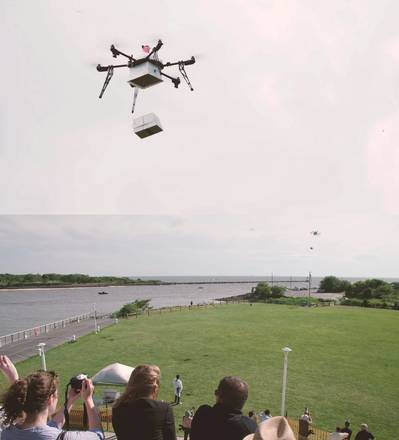 Flirtey, a Johns Hopkins University School of Medicine doctor and the Field Innovation Team showcase humanitarian potential of drones for the United Nations and American Red Cross.
Drone delivery service Flirtey and Dr. Timothy Amukele, assistant professor of pathology at Johns Hopkins University School of Medicine, successfully conducted the first ship-to-shore drone delivery in the U.S. on the New Jersey coastline.
"Imagine a future where in the event of a natural disaster like Hurricane Sandy, Flirtey drones rapidly deliver emergency medical supplies, food and water," said Flirtey CEO Matt Sweeny. "During Hurricane Sandy more than 1.4 million liters of water, 1.6 million meals, and 1 million fliers were delivered by first responders. Imagine how much faster and further these life saving resources could be delivered by drone. This demonstration is helping to make that future a reality, and taking us one step closer to Flirtey's mission to save lives and change lifestyles."
The joint mission demonstrated how unmanned aircraft can provide life-saving aid to victims of a disaster, such as a hurricane or system-wide failure of electrical or communications infrastructure. Dr. Amukele has previously led successful research on the viability of using medical drones to transport blood samples and blood products.
Flirtey and Dr. Amukele conducted the successful flights at the invitation of disaster preparedness non-profit Field Innovation Team (FIT), which also hosted guests from the United Nations Office for the Coordination of Humanitarian Assistance (UNOCHA), as part of the Drones in Disasters 'Do Tank.' FIT's Do Tanks enable experts from a variety of fields to come together and collaborate to develop solutions to humanitarian disaster scenarios. Goals of the event include educating the private sector on humanitarian response and aeronautical research into the integration of drones into the national air space. Research was done in partnership with the New Jersey Institute of Technology.
Flirtey drones carrying medical samples for emergency testing flew between an onshore medical relief camp at Cape May and a test facility on a vessel stationed off the coast. In a round trip, Flirtey drones then delivered medical supplies from the vessel to the onshore medical camp. Flirtey's ability to rapidly deliver vital medical supplies along a coastline when road systems may be damaged is a leap forward in humanitarian logistics and response.