Shipwreck Refloated Near the Galapagos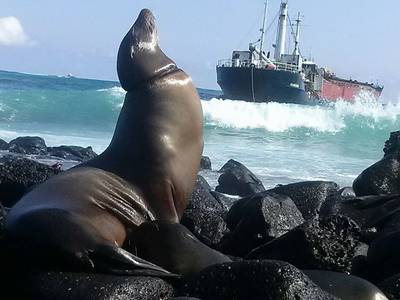 Grounded cargo ship Floreana was refloated by T&T Salvage on April 4, 2015 in San Cristobal, Galapagos Islands, Ecuador.
Leading operations in the Galapagos Islands World Heritage Site, T&T Salvage ensured all fuel, oil and other pollutants were successfully removed prior to refloating the ship wreck that lie sunk on a rocky volcanic shoreline for over two months. The salvage team's efforts were credited with protecting the historic and environmentally sensitive island where the HMS Beagle first landed in 1835 with naturalist Charles Darwin.
The T&T Salvage team included Salvage Master Ted Hosking, with over 50 years of experience salvaging ships around the world, Jim Elliott former USCG COTP and Certified Type-1 Incident Commander, plus seasoned project managers, naval architects, salvage engineers, and technicians. Throughout the salvage operation, T&T Salvage worked closely with the governments of the Galapagos and Ecuador to achieve both safety and environmental objectives.
The Floreana wreck removal included repairing the hull, sealing the damaged engine room and ballast tanks, and removing cargo from the flooded holds. All pollutants were removed, including draining all fuel and hydraulic lines, prior to pumping water from the flooded ship to a receiving barge to ensure no environmental damage. T&T Salvage then towed the Floreana outside the boundaries of the Galapagos Marine Reserve where it was subsequently scuttled in over 3,000 meters of water on April 6, 2015 under the direction of the government to prevent future environmental impacts to the World Heritage Site.
T&T Salvage, a member of Teichman Group, continues to expand services worldwide. On April 16, 2015, T&T Salvage held the grand opening ceremony for their new office in Germany.