Bharati Shipyard Turns Sick, Files with BIFR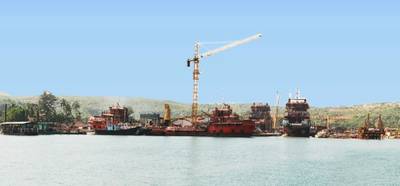 Debt-laden Bharati Shipyard Ltd on Tuesday said it has filed a reference with the Board for Industrial and Financial Reconstruction (BIFR), since it has become a sick company after eroding its entire net worth.
"The Company's Net Worth as on March 31, 2015 as per Audited Accounts presented before the Board has been eroded fully, hence as per definition under section 3(1)(0) of the Sick Industrial Companies (Special Provisions) Act, 1985 (SICA) the Company has become a Sick industrial Company," it said.
Edelweiss ARC (Assets Restructuring Company), which has taken over major portion of the Debts of the Company from the Financing Banks, is assisting the Company in the revival by way of Restructuring and Additional Lending.
As soon as a company files a reference with the BIFR, lenders cannot initiate any legal proceedings against it. Earlier this year, a few unsecured lenders to the shipyard had filed winding-up petitions against it, citing non-payment of dues.
The Bombay high court had ruled that the firm should pay pending dues.
Worried that its attempts to recovery money from Bharati Shipyard may be jeopardised, Edelweiss ARC in May appealed against a recent Bombay High Court ruling that allows bilateral settlements between the company and its unsecured creditors.
Bharati Shipyard was one of the first cases where a majority of a consortium of lenders sold their exposures to a single ARC. Late last year, many lenders sold around Rs 8,500 crore worth loans that were given to Bharati Shipyard to Edelweiss ARC. The ARC had stated that only half of Bharati Shipyard's debt was sustainable and that it was trying to convince lenders to convert the rest to equity.