Bulk Carrier Re-Named in China's New Yangtz Shipyard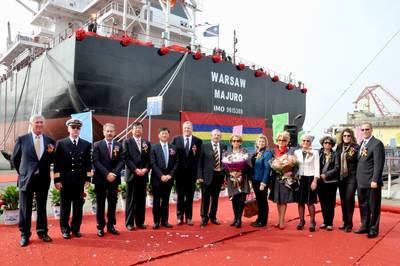 The 82,000 dwt Bulk Carrier built in New Yangtz Shipyard & converted in Chengxi Shipyard for SMT Company, was re-named 'Warsaw'.

Since its first order from SMT Company in 2005, Chengxi Shipyard Co., Ltd has successfully repaired and converted 27 vessels for them.

Participating in the naming ceremonty presided over by Mr. Ji Jun, Vice president of Chengxi Shipyard Co., Ltd were: Mr. Anthonius Voorham, owner of SMT, and Mrs. Mary Voorham, Mr Mark Voorham, CEO of SMT, and Mrs. Vanessa Voorham,Mr. Leszek Wasiewicz, President of SMT, and Mrs. Irena Wasiewicz, Mr.Lv Jianwei, President of New Yangtz Shipyard, Mr. Wang Yongliang, President of Chengxi Shipyard Co., Ltd, and Mr. Ji Hongfei, Vice President of CSSC Chengxi Shipyard (Guangzhou) Co., Ltd, representatives of owners and surveyors,and heads of related departments.