Cochin Shipyard Gears Up for IPO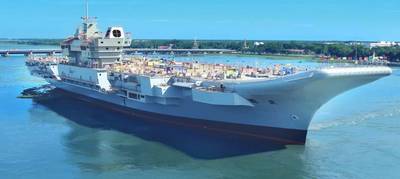 India's biggest shipbuilder under state control, Cochin Shipyard Ltd (CSL) is looking to file documents for its initial public offering (IPO) with the markets regulator by the end of this month, reports Live Mint.
According to sources, CSL is all set to file documents for its IPO of Rs 600 crores ($90 million) with the Securities and Exchange Board of India (SEBI). The plan is part of its effort to expand and construct larger vessels and also undertake ship repair and fabrication. In addition, the government will sell 10% of its stake through the IPO.
The work on the DRHP (draft red herring prospectus) is almost complete and it is expected to be filed before the end of this month. The government is keen on completing the IPO within the next six months and is looking at a launch timeline of December-January, said sources.
CSL, which would become the first of five state-owned shipbuilding companies to be publicly listed, has hired a consortium of investment banks, including SBI Capital Markets Ltd, JM Financial Institutional Securities Ltd and Edelweiss Financial Services Ltd, to manage the IPO.
Proceeds from the sale of new shares will be used to partially finance the setting up of an international ship-repair facility at the
nearby Cochin Port Trust
, as well as a new dry dock to facilitate the construction of larger ships and underwater repairs of rigs and semi-submersibles.
A dry dock is a narrow basin that can be flooded to allow a ship to be floated in, then drained to allow that ship to come to rest on a dry platform. Dry docks are used for construction, maintenance and repair of ships.
CSL is the only Indian yard that is qualified to build three LNG (liquefied natural gas) carriers to be used by state-run natural gas firm GAIL (India) Ltd for transporting LNG from the US.