Brazil Shipyard Delivers FPSO Early Gets Large Bonuses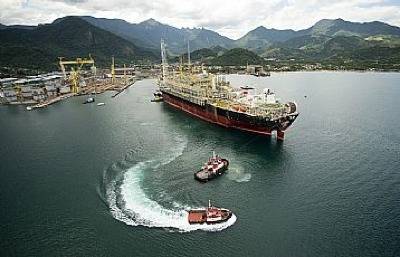 Keppel's yard in Brazil receives US$ 2-million in bonuses for safe and early delivery of Floating Production Storage & Offloading (FPSO) vessel.

Keppel FELS Brasil S/A's (Keppel FELS Brasil) yard in Angra dos Reis, Rio de Janeiro, Brazil - BrasFELS - has delivered FPSO Cidade de Sao Paulo 19 days ahead of schedule and with an excellent safety record.

FPSO Cidade de Sao Paulo has a production capacity of 120,000 barrels of oil per day (bopd) and is able to compress 5 million cubic metres of gas per day.

It is the first of two Floating Production Storage and Offloading (FPSO) projects BrasFELS is undertaking for MODEC and Toyo Offshore Production Systems Pte Ltd (MTOPS), a joint venture between MODEC, Inc. (MODEC) and Toyo Engineering Corporation (TOYO).

For achieving an excellent safety performance throughout this two-year project, MTOPS awarded BrasFELS with a safety bonus in addition to an early delivery bonus.

Arriving at BrasFELS in 4Q 2011, FPSO Cidade de Sao Paulo will soon proceed to operate for Petróleo Brasileiro S.A. (Petrobras) and its partners in the pre-salt region of the Santos Basin.

BrasFELS' work scope for this FPSO project comprised the fabrication of riser manifolds, laydown areas and the flare tower as well as the assembly and integration on board the FPSO.