China Shipyard Delivers Safety Patrol Boat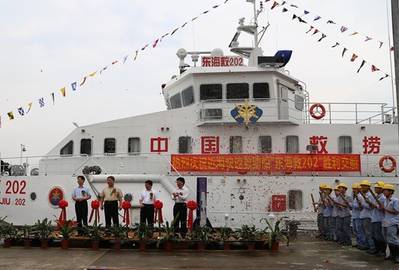 The coastal fast rescue vessel 'Dong Hai Jiu 202' has been delivered by Alfai Southern Shipyard to the Donghai Rescue Bureau.
Afai's General Manager Mr. Wu Mingyi and the Deputy Director General of Donghai Rescue Bureau Mr. Xiao Yuehua signed the delivery documents.

The 'Dong Hai Jiu 202' is the fifth coastal fast rescue vessel built by Afai for the China rescue and salvage service and will be introduced to service in the Donghai area.

A brief ribbon-cutting ceremony was attended by representatives of China Rescue and Salvage Bureau of Ministry of Transport of the People's Republic of China etc., shipowner units, and CCS Guangzhou Branch.