Qatari Shipyard Delivers Tugboat in Large Milaha Contract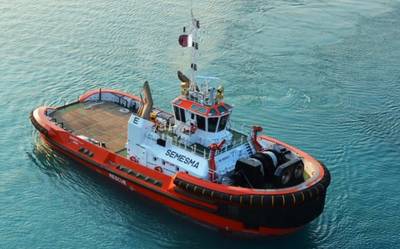 Qatari shipbuilder Nakilat Damen Shipyards Qatar (NDSQ) say they have delivered to Milaha the 32m-long tug 'Semesma', the eleventh vessel built in the State of Qatar by NDSQ to be utilized by Milaha at the Port of Mesaieed.
ASD tug Semesma has a bollard pull of 80 tons and will be used for escorting vessels visiting the Port of Mesaieed. The tug is 32m long with a beam of 13m and has been equipped for offshore towing, firefighting and pollution control.

Semesma is part of a 19-vessel order for Milaha that NDSQ is completing at its facilities at Erhama Bin Jaber Al Jalahma Shipyard in Ras Laffan. Prior to the delivery of this vessel, NDSQ had delivered to Milaha three 28m-long Azimuth Stern Drive (ASD) tugs, each with a 55-ton bollard pull; one service boat capable of speeds up to 20 knots; and six 10-ton mooring / tug boats, all built in the State of Qatar.
Upon the occasion of Semesma's delivery HE Sheikh Ali bin Jassim Al Thani, Milaha Chairman and Managing Director said: "Milaha is proud to have partnered with QP, Nakilat and NDSQ on this 19-vessel order. The ongoing expansion of the State of Qatar's ports infrastructure and services is vital to the country's economic growth, and there is a need to modernize the fleet and enhance service levels to support this expansion. These additions to our harbor fleet reflect Milaha's commitment to play an important role in the development of the State of Qatar's ports and transport sector."
NDSQ is a joint venture between Nakilat and Dutch shipbuilder Damen and is based at Erhama Bin Jaber Al Jalahma Shipyard in the Port of Ras Laffan, the State of Qatar. NDSQ began operations in 2010 and builds ships in steel, aluminum and fiber reinforced plastic (FRP), up to 170m in length.

www.ndsq.com.qa