New Drydock for FMT Shipyard and Repair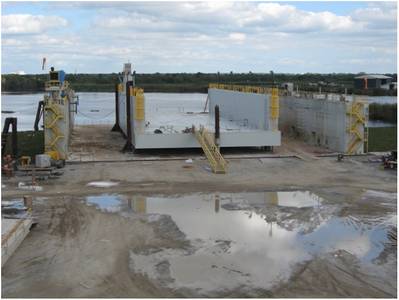 Gulf Island Marine Fabricators has recently delivered a new drydock named the J.B. Barthelemy to FMT Shipyard and Repair.
The new drydock, which is 180 feet long and 73 feet wide with 63-foot clearance between the wingwalls, seven-foot deep pontoon with 18-foot high wing walls, has a 2,400-short-ton capacity and will be located at FMT Shipyard and Repair yard on the
Harvey Canal
.
The drydock has a 225 kilowatt genset provided by Kennedy Engine, eight eight-inch ABS submersible pumps provided by Advanced Industrial with the valves being controlled by Bernard actuators provided by Sunbelt Supply.